Designed for K. Thomsen; 1937 portfolio cover
In 1938, after a chance meeting with the American Ambassador to Denmark, Risom decided to go to New York to further his studies while familiarizing himself with contemporary American furniture design.
Arriving in 1939, Risom soon discovered that there were no real opportunities for study or work in his field. Instead, Risom was given an introduction through the Museum of Modern Art to the fabric and interior designer, Dan Cooper. Risom's original textile designs, created solely for his interview with Cooper, landed him his first free-lance project in America.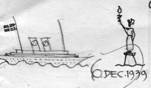 Risom sketch commemorating his fiancé's emigration later in 1939
More work followed, including original furniture designed and built for the Collier's House of Ideas, a model house built on a terrace at Rockefeller Center overlooking Fifth Avenue. Designed by Edward D. Stone, who personally chose Risom to design all the furniture, the Collier's House project created a wider interest in Risom's ability to design furniture that fit perfectly into the new homes being built by architects like Stone.
Online Photo Options
Credit: Photos of the Stone-designed Colliers House of Ideas and Risom-designed furniture are from the Gottscho-Schleisner Collection of over 29,000 photographs that were originally commissioned by architects, designers and publications. These photos document many important achievements in American 20th-century architecture and interior design.

Movie Clip of the Colliers House of Ideas

Credit: Archival footage supplied by the Internet Moving Images Archive (at archive.org) in association with Prelinger Archives
In 1941, having recently completed plans for a new furniture department for Georg Jensen in New York City, Risom joined forces with Hans Knoll, a young energetic entrepreneur who, though he understood the basics of the furniture business, was not a designer. Finding they made a good team together, the two set out with their wives on a cross-country tour visiting modern architects while simultaneously gaining a better understanding of the potential market for a new line of modern furniture that Risom would design and Knoll would sell.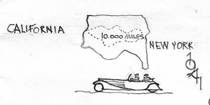 Risom Sketch